This message can impact both your daily communication and relationships. I asked for instructions for a "Roundtable Meditation" class with Grandmother literally teaching the class, on 8-30-19 - and this was Grandmother's instruction: Put a Lot More Love and Creativity into the Situation -- whatever the situation is.
Enjoy "Grandmother on Putting a Lot More Love and Creativity into the Situation!," Recorded 8-30-19, Posted 9-4-19, 13 minutes, 3 seconds.
---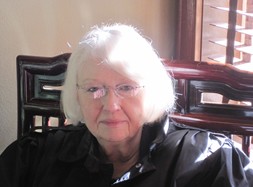 Click Audio Player to play "Grandmother on Putting a Lot More Love and Creativity into the Situation" for our class of 8-30-19 - Posted 9-4-19, 13 minutes, 3 seconds. Reading Transcript while listening to Vocal Vibrational Message can increase understanding.
---
TRANSCRIPT
SHR: Grandmother, what would you like us to do in class today to become more loving, more of service to others, to grow, to expand our communication with others? To materialize love which is of service to others in the Universe?
GRANDMOTHER:
I have said to you in the past, that if you are having a problem with a situation, to "put more love into the situation."
I have not focused as much on: If you would create something new in your life that excites you, that you would love to have in your life – then you must also "put more love into the situation."
You must express greater love, both in meditative states, and in the third-dimensional reality, to other beings and in other situations: Put more love into the situation, even of great "creativity."
There is a connection between my saying "Go and find new things to love. Go and find new things which bring you joy each day." And increasing your creativity!
Creativity has an engine. This act of finding new things, new people to love, new things which bring you joy, new people which bring you joy – is the engine of creativity!
Now, when you sit and think about your day, consciously or unconsciously, you are planning the day, so you might as well do it consciously!
Each day is a living thing. It is in your hands for creation.
So, we are going to put a lot more love – and now a lot more creativity – into the situation! And that means going out of your usual routine into new routines -- and becoming comfortable with the daily creation of new routines -- and experiencing of new emotions -- and generating even greater love for all beings and into every situation!
Simply put, the ability and decision to practice more and more acts of loving -- finding new things to love, looking specifically for new joys, creating new loves and joys in the lives of others -- is the way to transform your life.
But you set this in motion when you begin the day in silence. And it is important to commit that time in the morning "dream-state" time, meaning that time when you are awake when your vibrations are still strongly connected to the deep "theta" waves and even deeper waves of interdimensional communication as you prepare and create your day.
That day is created from the emotions of the waking. You are waking up "a day." You are creating "a day."
Your emotions, your love is the great, powerful energy – creative materialization and even magical energy which you bring to each day.
Now, you can see the power, if 7 billion people on this planet begin their day consciously seeking to love others, to serve others, to find new things to love, to find new joys, to create new joys in the lives of others, to bring new love in the lives of others – that the Earth would be transformed x 7 billion. That is: Transformed by 7 billion.
And all you have to do, as a great interconnected being, connected throughout the Universe, is to do your part in creating that day of creativity, love, joy, and service to others in the first few minutes of your day. And when you meditate, and morning is a special time for meditation – or any time you meditate – have this as your intention.
It is a little bit more detail than just saying "Put more love into the situation."
Let us say:

"Put more love into your life." "Put more love into the lives of others." "Put more love into your meditation." And then, begin to create things.

The creation of new emotions, experiences, events, materializations – is a pathway to the creation of new kinds of love.
Now, if you thought that there was only one kind of unconditional, universal Love – that's fine, it's a beginning step – but it isn't this Universe! This Universe is a creation of new unconditional, astounding, creative love every day – and the creation of new things to love and even new people and new situations being discovered, which you can love. Do you see?
It is not sufficient to give you this "manual" when you are a tiny child. In effect, you already have the manual. You are taught this in many of your circumstances of your education, whether they are spiritual or the best efforts of your parents to give you're a spiritual and ethical and compassionate upbringing.
Now, we're going to be intentional. And we're going to do that in other dimensions.
It is truly a simple primer. And it affects all of the wave-form vibrations and languages of which Oron speaks in the message of today. It affects all of the languages which are referenced in the "Deep Space Messages."
In effect, Love is a quantum issue. And one of your greatest quantum experiences is deep sleep. And then deep meditation.
And so I say again, upon waking, there is a great opportunity to create a day on Earth which will impact everyone else's day on Earth.
And in groups of meditation, put that intentional purpose. You can also bring this kind of deeper vibrational intention of love to all situations.
I want to express to you the greatest possible love and appreciation for who you are and your efforts to do this, and even your interest in being of service to others -- your efforts to be of greater and more helpful, true service to others.
You are greatly loved. You are eternally loved. You are universally loved. And you may reflect that and give that as a wave-form vibration -- great waves of love -- to all other beings in the Universe.
And then you put that intention of love into every situation and creation.
It is a way, in a sense, to create a new "you" every day, in loving service to others.
Blessings, Blessings, Blessings…
-- Grandmother from Another Planet
------------------------------------
Photo Credit: Image by Peggy und Marco Lachmann-Anke from Pixabay - #1046658