"Grandmother on Transforming Uncertainty into an Eternity of Love" -- Or "You, the Discoverer, in a Time of Uncertainty..."
I asked Grandmother if there was a special message for today, 10-24-18 -- a day of great uncertainty in a period of seemingly volatile events. This was the message -- that beginning to create community through a love of all beings was an eternal opportunity like no other...
"Grandmother on Turning Uncertainty into an Eternity of Love," Recorded/Posted, 10-24-18. 9 minutes, 12 seconds.
---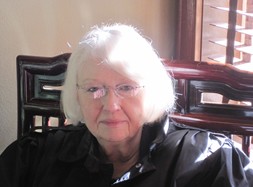 Click Audio Player to play "Grandmother on Transforming Uncertainty into and Eternity of Love." Recorded/Posted 10-24-18. 9 minutes, 12 seconds. Listen and read simultaneously for even greater impact. (Note: Pardon the computer tone sound halfway through.)
---
TRANSCRIPT
SHR: Grandmother, do you have a message for today?
GRANDMOTHER:
Uncertainty is an opportunity for redefining identity.
Uncertainty is always doors opening, which before were invisible.
Uncertainty is also connected to fear of new lessons. But that can be overcome -- with a greater love for all beings and greater love for yourself.
When you are uncertain, the possibility of discovering your own higher intelligence, your own higher creative being and its great power, seems to expand greatly. This is normal.
So, begin to feel one with your sisters and brothers on this planet who are also experiencing uncertainty. You see, in feeling one, even if it is about uncertainty, it is a sense of community identity. Do you see?
You are very precious beings, learning very deep lessons. Do not let any event or group or beings -- all of whom, of course, are you -- discourage you from feeling great community with all beings -- and great love, ultimately, for every single being on Earth and beyond Earth.
Do not let any discouragement come between you and this great sense of community -- that flies out of the heart with wonderful  messages and feelings and desires to create anew.
Always life begins with the desire to create anew. Uncertainty precedes some of the most powerful inventions and discoveries.
Now, let us talk about that: Let us talk about You, the Discoverer, in the Time of Uncertainty.  This is your greatest role. Going within, in deep meditation, in loving meditation with your "self," to discern as a member of a wonderful community -- this is one of the most precious things about every life. Finding new ways to increase community, to increase your participation in community, to increase your encouragement of others to participate, to love one another in community -- is perhaps your greatest job, your greatest role on the planet.
This role is for every age.
This role is for every being.
So, I would encourage you, at this time, to reach out; to give a hug; to call someone you have not called in a long time; to visit someone who needs a visit; to go out and meet at organizations who are trying to do community creation, to participate with them. What a great gift that is!
From the heart, all uncertainty can be dispelled with a love which is ancient, a love which is you... There are no real mysteries in a state of love. There is no real uncertainty -- and there can be a great sureness of eternity in a deep state of a love which is almost unnameable.
Now, in times of uncertainty it is more difficult to step out and express love for other human beings. You want to stay at home; you want to wait until all of this "blows over"; you want to wait until someone reaches out to you.
But this is a call to all of you with deep love in your hearts: Reach out. Reach out unexpectedly. Reach out from the heart. Say the things you should have said long ago.
EXPRESS YOUR LOVE...
GIVE YOUR GIFTS...
SPEAK YOUR TRUTHS...
But speak the truth with the love of a brother and sister -- for that is who you are... Uncertainty comes only when you forget that there is no separation, that there is only one being, that I Am You, and You Are Me -- and I am always, always your Family.
You are precious, you are loved, and you are about to embark on the most extraordinary time of opportunity for soul growth in so many eons -- it is almost unmeasurable.
This is a time for great preparation. And finding that great heart signature of love in you, is the greatest thing you can do at this time. Reaching out, meditating with others, helping community with others -- but in a very loving way.
That is the path which transforms uncertainty into an eternity of love...
-- Grandmother from Another Planet
"Beauty is not who you are on the outside, it is the wisdom and time you gave away to save another struggling soul like you." Shannon L. Alder
Photo Credit: Pixabay, GDJ. Creative Commons License. #2112266