---
As I look for answers, watching what is happening on Earth, this message turned out to be one of the most powerful from Grandmother from Another Planet -- on the new identity we are to assume if we are to transform our planet, make a difference, heal globally and beyond.
It was an unusual answer to the question I asked from the heart -- and it got to the heart of the matter perhaps more than I was prepared for. Even posting these blogs from "Grandmother from Another Planet" is a new kind of sharing of my secret  "truths" as a way of living, a new identity. Her answer to the question helped me see "a new place to stand" during evolving catalyst events and unprecedented times.
"Grandmother on It is Time for the Truth of You to Be Your Life," Recorded 12-12-18, 9 minutes, 42 seconds -- awaiting upload. Transcript posted 12-12-18.
---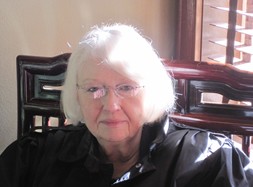 ---
TRANSCRIPT
SHR: Grandmother, it seems that our identities are being challenged at this time on Earth...with so many changes across the globe, in every kind of country and industry -- such quick changes. What is a message that you could give, some guidance -- about how to handle this, at a time when even the slimmest privacy seems to be evaporating.
GRANDMOTHER:
I would like to speak to you about the great power of no longer pretending.
You have extremely potent, individual creative thoughts and dreams. You have a powerful impact on other human beings each time you greet them or interact.
It is not particularly useful, during a time of such enormous change, to continue to live a "pretend story," a "cover story" about what you truly want in life, who you truly want to be in life. Because this is a kind of denial of a most extraordinary time of opportunity for the power of a truthful identity.
I cannot stress enough that all of your learning right now which is focused on the truth of who you are and who human beings on Earth as a race, as races, as a species: This is the most important study, and you are drawn to it.
There is evidence everywhere that you want to know more of the truth of your origins. And in the same way, you are fatigued by the "pretend stories" that you are now beginning to see through...
Those you know and love will appreciate your truthful revelations about your dreams and who you really are.
Now, you can have a creative artistry about this... You can begin to experiment with the arts, with stories of fiction -- or with choosing new classes and new studies and new books. And then becoming involved, embroiled in deep conversations with those who are interested in these deeper interests that you have, but you never felt comfortable revealing.
Now is the time to have those discussions. There is a vibration of truth. This is recognizable. Authenticity is felt and seen, and it inspires. It inspires the energy around you. And, in a way, each step into the truth of your dreams inspires the core of you -- to become known even to yourself.
The secrets of the self...the amazing personage, the amazing roles that you have played over many lifetimes: These are the secrets which form the boundaries of your daily life and friendships -- because they are secrets, when they should be like rocketships!
Beginning to tell these stories -- and to read and investigate and find out about people with similar dreams, or people who have remembered another life, or people who amazing experiences of synchronicity: This is so energizing that it might enable you to rise far beyond your worries and concerns about daily life.
You will come to see that you are indeed, a magnificent human being, a consciousness for the eons, an ancient and wise learner and teacher.
I cannot tell you how deeply these discoveries can open your heart. And following a path of such discoveries, beginning to quest, to question your inner voices, to live and discover more about your greatest secret dreams -- until they become real: This is the role that you can play now, in evolution.
This is a time of change on Earth. But it is, most of all, a time of change for those who live here, whatever their origins, wherever they might be visiting from...
Always appreciate, never doubt, the tremendous value of every truthful step. When you live in an identity -- telling stories -- that is closer to the truth of you, the loves you have, the beliefs that you want to test: It is such a changed life, that you begin to wonder how you lived another way at all!
And you begin to feel great empathy and compassion for people who want to take those steps now. And you may reach out in some way to be of service to them.
And this is an even greater step into a higher dimensional viewpoint -- where it is every day known to you and experienced by you that every single heart in this world and others is connected eternally.
You are a blessed being and you are loved being.
It is time for the truth of you to be your life.
-- Grandmother from Another Planet
---
Photo Credit: Pixabay, Photoshop_Addict, Creative Commons License, #2091112