A call to increase your "higher intuition" and communication with the "higher self" - a higher creative intelligence aspect of our selves. Might this send a "call," a signal to the Universe which is "both Ancient and Forever..."?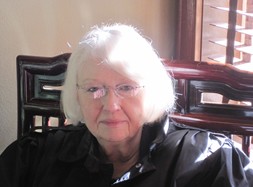 Click Audio Player to play "Grandmother on Calling the Higher Self," posted 7-17-18, recorded 4-27-17, 4 min., 1 second.
TRANSCRIPT
GRANDMOTHER:  "It is the willingness to enter into a dialogue intentionally with the 'higher self,' with the intention of learning, growing, being able to love at the highest level -- which 'calls' the higher self into a state of co-creation -- in which this communication is possible with different aspects of Reality Being... I am using that term with capital letters: Reality Being... This may have many aspects.
The willingness to write down your question; the willingness to act as the writer of words from the "higher being of the self" or other selves; the willingness to speak the questions and answers of a 'higher self being' -- this is an intentional call, which is a form of telepgraphy. It is a great signal to the Universe.
In addition to "I Am You and You Are Me, " it is a call of "I Am Ready."
We cannot emphasize enough, the power of deepening and exploring this call every day.
If before you did not write, now write.
If before, you did not speak this communication, this dialogue, now speak aloud.
If before, you did not dance or move this communication, then dance and move.
If before, you did not sing this communication, then sing.
It is the willingness to begin the dialogue and the strong intention to participate in this unusual pathway, to open this door in the cosmic sky, that is a form of 'Call; that is both Ancient -- and Forever..."
-- Grandmother From Another Planet...
______________________
"You are a function of what the whole universe is doing in the same way that a wave is a function of what the whole ocean is doing."  -- Alan W. Watts
"This above all: to thine own self be true."  -- William Shakespeare, Hamlet.
"What I'm looking for is not out there, it is in me." -- Helen Keller
______________________
Photo Credit: Pixabay. Creative Commons License. Founder. #839671.